Editor's Note: This story has been updated to reflect that Clara Guatta performed with Yo Soy Arte on Sunday. A previous version of the story misidentified the singer.
LENOX — For Laura Cabrera, picking up a guitar at The Mount on Sunday was just another way of using music to share her culture.
Cabrera did the very same thing for her two children; her daughter, who loves singing, and her son who plays the guitar. She wants to pass the music down to them, although she learned traditional music herself in the Berkshires.
"I wanted to teach them something that nobody taught me before," Cabrera said. "In Mexico, I never played or sang. I found out in the Berkshires that I love music because I was going to different performances with friends."
That inspired her to learn — and to begin performing around the county with different musicians filling out her band, she said.
On Sunday, she performed with both her children in the band Yo Soy Arte, as they shared their culture with people there to celebrate it.
The Baile de Musica Latina festival at The Mount in Lenox at 2 Plunkett St. saw a tremendous crowd gather Sunday from 4 p.m. to 7 p.m. During those three hours, attendees enjoyed live music and various forms of Latin dance, which they were highly encouraged to participate in. Many answered that call emphatically beneath a big-top tent on the grounds.
The event began with a performance by Yo Soy Arte, then salsa and samba dancing with Luana Dias and a performance by Clara Guatta. After the live performances were over, a curated playlist was slated to play to keep the dancing going. La Chalupa y La Enchilada provided food at the event.
The event was organized by Liliana Atanacio, community outreach coordinator for The Mount and a member of Latinas413. She said the goal of the event was to get people together from all over the community and share culture, and to simply have a good time together.
"It's just amazing to see all the community gathering for celebration," Atanacio said. "For dancing, we put the ad out there like, 'come and dance with us, come and party with us,' and they are here for that."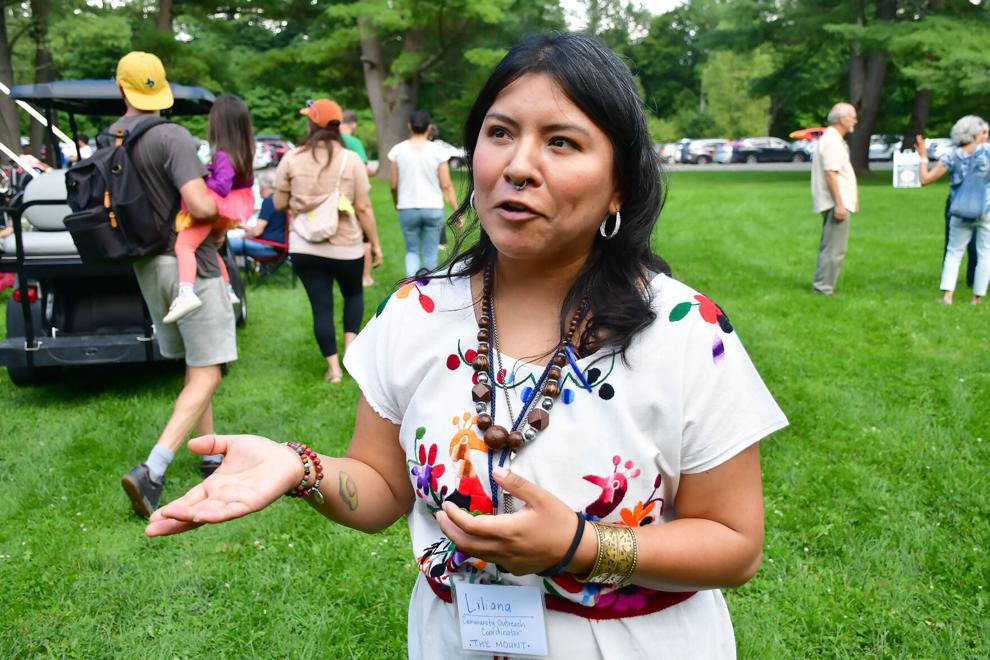 Susan Wissler, executive director at The Mount, said the event was just one part of an effort to make more inroads with the Latinx community in the Berkshires, and that there would be more to come soon.
"I'd like to come out of this with the people in the audience who have never been here before deciding that this is a place they'd like to return to," Wissler said. "Another day — whether it's to see the artwork or to walk the trails or to have a picnic or to bring their kids, but for them to leave this place feeling like it belongs to them."
Juan Cabrera, a Housatonic resident who was there with his two children, said he wasn't always able to make it to events like this because of his work schedule, but he was glad he made the time to come out on Sunday for the celebration.
"It's a nice way to enjoy the weather, too," Cabrera said. "Summer's almost over, you know. And it's a good way to meet some people and find friends."
Sophia Sanchez, 12, said that the event was about giving people a chance to share their culture and their personalities.
"Everybody should have the chance to express themselves," Sanchez said. "For example, I'm Mexican on the side of my mom and my dad. I love celebrating with my mom, I love coming to these events so we can show off who we are."
And for Dana Sanchez, 14, the event was a great way to bring people from different backgrounds together. She hoped to see even more people gather the next time one of the events was held.
"I think it's important because it brings many different people together," Dana Sanchez said. "I think that it's very good that we're able to share such great experiences and it opens up a lot of opportunities for most people who probably wouldn't come to a dancing thing."
And at its core, the event gave visibility to Latinx people and cultures in the Berkshires. Atanacio fought back tears, noting that Dana and Sophia Sanchez, her two daughters, were able to join her on stage as she delivered remarks thanking the audience and translating in real time. The event represented a chance for them to celebrate too, she said.
"I feel so proud that they could stand there in their heritage," Atanacio said. "Because they are part of these two worlds. They are growing here but also feeling like they belong to someone else, too."