Over three days, students will bond with one another, learn about Boston, and help clean up Pope John Paul II Park
For more than 30 years, hundreds of first-year BU students have flocked to campus early for the First-Year Student Outreach Project (FYSOP), a week of education and reflection organized by BU's Community Service Center (CSC). Full of opportunities to give back to the Greater Boston community and activities with fellow Terriers, FYSOP has a reputation for forging bonds that last through graduation.
But this year, the program will look a little different.
"I feel like this is the rebirth of FYSOP," says Rani Kaushik (Questrom'25), one of the 2023 program managers. "I don't think it's ever been done like this."
The three program managers—Kaushik, Huley Sow (Sargent'25), and Sebastiaan Bak (Questrom'25)—worked at the CSC all summer to revamp the program. The biggest challenge was to fit the traditionally five-day program into three days.
"So many students are coming from quite far to campus, and a lot of folks need to do Orientation the week leading into the semester," says Danielle Cavendish (Sargent'14), CSC assistant director. "Historically, there's been no way for a student to do both FYSOP and complete their Orientation requirements."
In light of the changes, Cavendish hopes the new FYSOP will be more accessible and enticing to first-years.
---

I feel like this is the rebirth of FYSOP. I don't think it's ever been done like this.

---
"We really wanted to ensure that service was still at the heart of the experience, and that there was still a really robust service component to FYSOP," she says. "I think it's an exciting thing to try, and hopefully we'll have a really awesome time welcoming our newest class of first-years."
This year's theme—Catch Your Wave—alludes to the summery energy that first-year participants, staff leaders, and managers bring to the program. In addition, each of the three days has its own theme: Foundation Day, Service, and Education and Reflection (EdRef). These days are based on the past programs' schedules, which included Foundation Day and three days of service, followed by EdRef.
"We're going to get students out into the city to hit different important areas and learn about the history and what makes Boston Boston," Cavendish says.
Foundation Day was historically when incoming freshmen and transfer students would learn about Boston through the lens of their focus areas: large groups centered around a specific social justice issue, such as education, community initiatives, and human rights. FYSOP attendees would split up into their focus areas on Foundation Day to learn from partnering organizations, such as Cambridge Community Television, Ivy Street School, and the Emerald Necklace Conservancy, about how they engage with the Greater Boston community. Although there used to be seven focus areas, they've been pared down to three this year: youth, education, and family advocacy; food justice and sustainability; and housing, public health, and human rights.
Foundation Day's events include presentations from the program managers and other speakers from the BU community and from around Greater Boston. Speakers this year include Boston City Councilor Sharon Durkan, Dhruv Kapadia (CAS'24), BU student body president, and Paul "Hutch" Hutchinson (GRS'15), a senior lecturer at the Questrom School of Business. Durkan won a July special election to represent District 8, and has previously worked with Mayor Michelle Wu and Senator Edward Markey (Hon.'04) (D-Mass.); Hutchinson, a regular speaker at FYSOP, focuses on hands-on, experiential learning and will also be on hand for icebreakers and community-building exercises.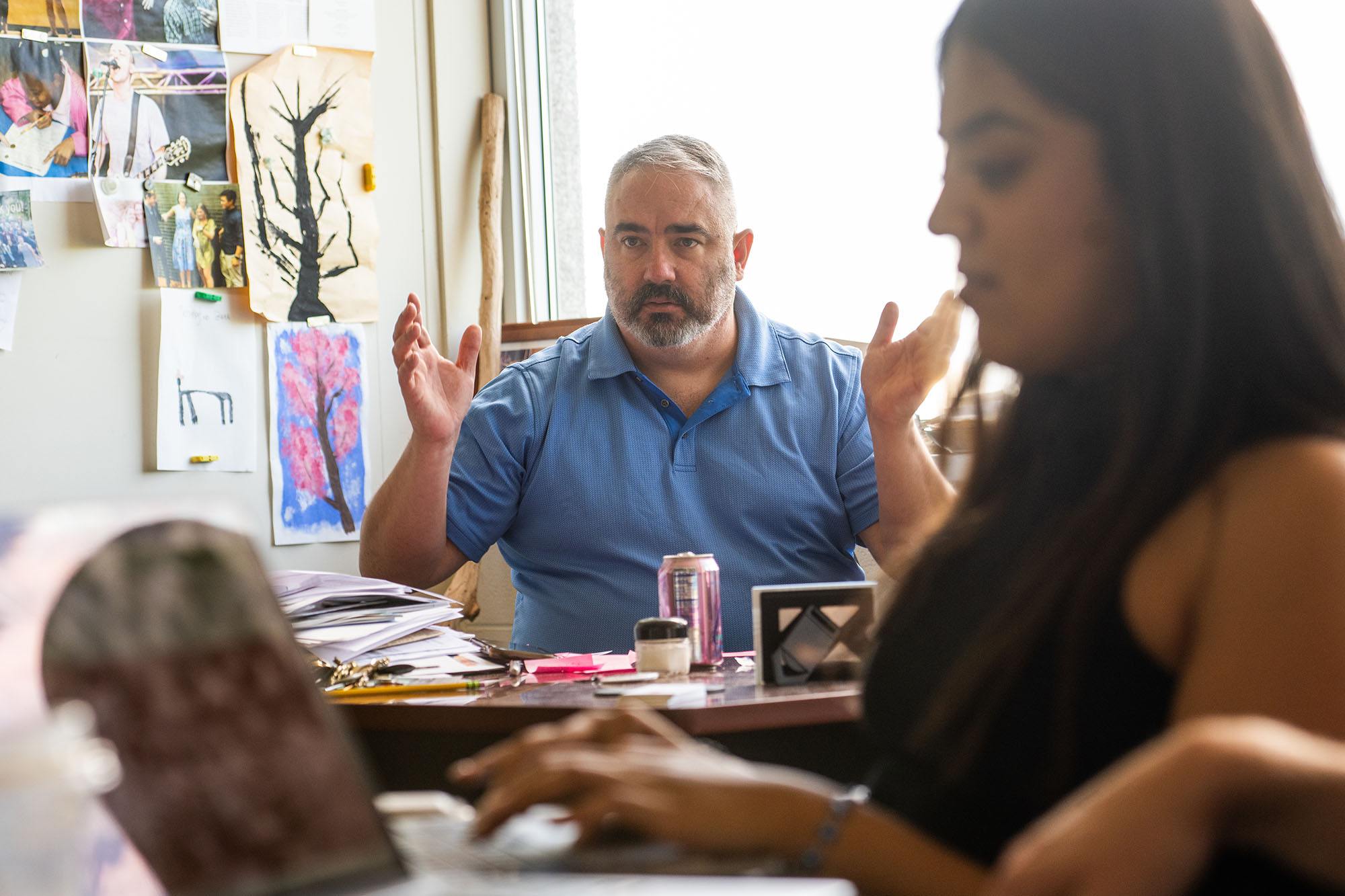 In years past, the days of service were broken down by focus area, with the volunteers spreading throughout Boston's neighborhoods to work on a number of community projects, like organizing storage rooms at Hugh Roe O'Donnell Elementary School or helping Room to Grow provide essential supplies for parents with babies and toddlers. This year, the entire group—over 300 first years and 60 staff leaders—will be going to Pope John Paul II Park, a 75-acre expanse along the Neponset River with hiking trails and picnicking areas, to work on a large-scale river cleanup.
"The river cleanup project is something that was both a need for the city, and gives enough opportunities for people to have hands-on experience," Cavendish says.
Throughout the week, volunteers will also have the opportunity to explore the FYSOP Museum, a yearly tradition that sees the CSC transformed by decorations, giant posters, and graphics that give an overview of the social justice issues facing the Boston area. Kaushik, who worked on the poster design, says she wanted the museum to be easily viewed both in person and online, via printed posters and virtual scanned images, to ensure that it can be preserved for future reference. Closing out the program is EdRef, where this year's FYSOP participants will have a chance to reflect on the week and discuss their feelings about the program and their transition to college life, followed by a closing ceremony where Jason Campbell-Foster, newly appointed dean of students, will speak.
FYSOP concludes on September 1, but the CSC wants students to know that there are always opportunities to participate in on- and off-campus community service during their time at BU.
Bak says the CSC is working on creating a team to facilitate these community relationships, a team that would be "solely focused on community outreach…by connecting students with [community partners]."
"If folks want to get involved with one of our in-house programs, we can point you in the right direction and get you onboarded," Cavendish says. "But if you have an interest or a passion that's in another part of campus, let's make sure we can make that introduction and really help you navigate the behemoth that is BU."