Mackenzie Martin earned her master's degree in secondary education and teaching, and thought she would be a classroom teacher for "a long time" when she started her teaching career in Henrico County.
But her plan did not work out as expected when met with the exorbitant workload caused by insufficient staffing at Highland Springs High School in eastern Henrico.
"My job was to be there for the kids, and I tried my best to be. But I found more and more that that's not what was prioritized," Martin said. "They sometimes just needed a body to sit in a room when other teachers weren't there when we did have enough staff."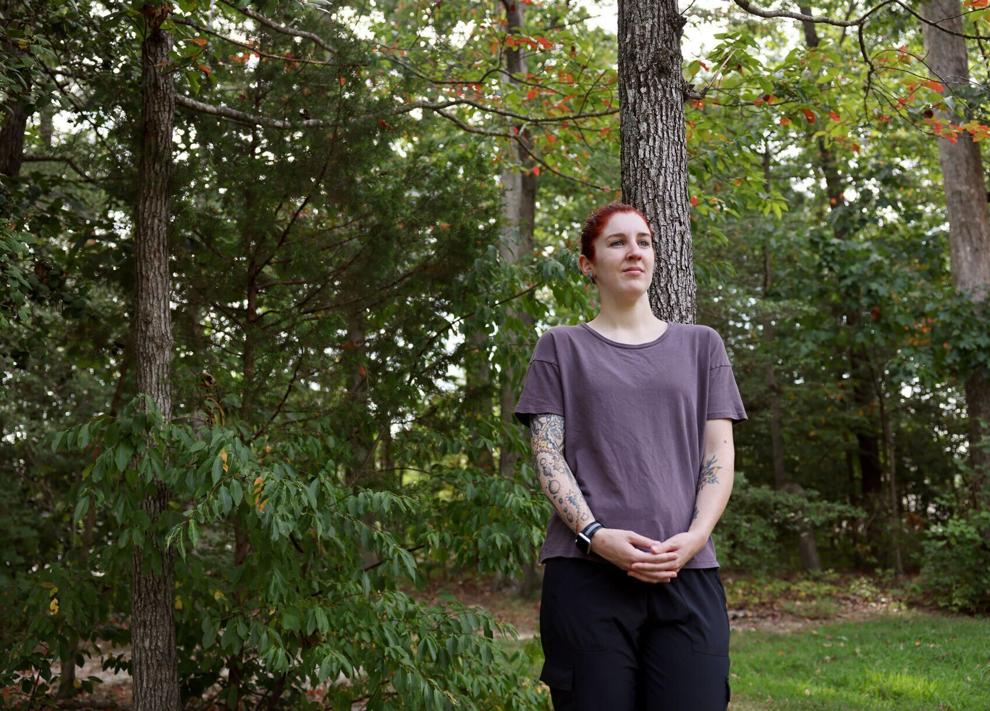 The state's teacher shortage, while sizable, is less severe than it was at the start of last school year.
An analysis from the Virginia Education Association, the state's teachers union, shows that there were about 9,300 open job postings at school divisions across the state on Aug. 10, down from about 10,500 open postings on the same day in 2022.
The snapshot comparison does not provide a full picture and includes some caveats. The number of open positions could be affected by the availability of federal COVID-19 funds that are drying up, and divisions could have consolidated positions that were difficult to hire for. But overall, the numbers indicate that while the situation has gotten better, it is still an issue.
"One big takeaway is that the data still doesn't look great. There are a ton of openings across the state, and it's not that much better than it was last year," said Chad Stewart, policy analyst for the VEA. "We would anticipate continued shortages for almost all positions in the upcoming school year."
One general trend is that some of the largest divisions in the state, like Fairfax, Loudoun and Chesterfield counties, saw the biggest improvements in terms of overall job openings posted online.
Chesterfield's school system is 99% staffed, according to a spokesman.
In Spotsylvania County, the school system's teacher shortage is so severe that more than 600 students at Chancellor High School are taking math and English courses virtually through an online platform because there is no licensed teacher to instruct them in-person, according to The Free Lance-Star.
Henrico County
Henrico County Public Schools started off the school year on Aug. 21 with about 100 instructional vacancies. Most of the county's instructional vacancies, which include teachers, librarians and counselors, are in the county's eastern end – a perennial challenge in the county, driven largely by its economic and racial segregation.
Eastern Henrico's Fairfield and Varina districts, which are home to more poor and Black residents, had 30 vacancies each. The Brookland District, which separates the two ends of the county, had 18. Meanwhile, western Henrico's wealthy Three Chopt and Tuckahoe districts had seven and eight vacancies, respectively.
The bow tie-shaped county is geographically distinctive, spanning the north side of Richmond from the east to the northwest. The county contains both very rural and suburban areas as well as urban fringe areas. Some areas on the eastern side are much less densely populated, and residential patterns show evidence of extremely segregated housing.
The situation, more balanced than it was last year, is partly due to a new initiative the county school system launched earlier this year that gives incentives to teachers in hard-to-staff schools.
Starting this academic year, new and existing licensed instructional staff working at an "opportunity school" will receive a yearly bonus of about $3,000.
As part of the initiative, each designated school also offers additional support for staff, including one additional permanent substitute teacher, tailored professional learning for teachers, and a full-time teaching fellow to provide limited direct classroom instruction and coaching support.
"We were very pleased with our first year. We knew we needed to do something different," said Amy Cashwell, superintendent of Henrico County Public Schools. "We did a lot of focus groups with our teachers in those schools … and they told us that monetary incentives may draw them here, keep them here a little longer, but what they need are those supports and they need folks to help share that load in meeting the unique needs of students.
"The wraparound supports at each opportunity school may look different because the needs are different."
The nine opportunity schools are all in the county's eastern end, and include Highland Springs High, where Martin taught English for four years before she resigned in June.
"We just needed more people in the building. I know that's hard to say because these days teaching is seen as not attractive because of how hard it is right now, but that was what it boils down to," Martin said. "If things were different, I would definitely be in there right now because it's the kids I would go to school for because I love them. I love the kids at Highland Springs. I still do.
"But I couldn't do the job of 10 people, and I ended up doing the job of like 30 people at some point, and that just wasn't fair to the kids."
Richmond and Hanover County
In neighboring Richmond, the school division began the school year with a shortage of about 120 licensed teachers, a significant shortage for a division that enrolled about 22,000 students last year. Henrico, comparatively, has fewer teacher vacancies and more than twice as many enrolled students.
Most of Richmond's instructional vacancies are being filled by long-term subs or individuals in the division's Build Our Own Teachers program as the division continues recruitment efforts. The new program assists aspiring educators with a no-cost teaching license if they agree to a three-year commitment to teaching in Richmond Public Schools.
The program has about 75 teachers right now, nearly a quarter of which are men of color, who are underrepresented in the teaching profession.
Hanover County Public Schools says it has five teacher vacancies, four of which are being filled by long-term substitutes. Hanover implemented a new teacher prep program last year, which circumvents the need for aspiring educators to take courses at a college or university. The school division covers everything from the application fees to assessments, and all of the curriculum.
Teachers with a provisional license, which can be acquired by people with a bachelor's degree, can start teaching in Hanover and earn their full license at the same time. The classes are taught during the regular school day, when the new teachers are already at school for work.
At the state level, officials are attempting to mitigate the teacher shortage by approving an alternate pathway to teacher licensure: a for-profit online teacher training company named iteach.
Candidates with a bachelor's degree can receive a provisional teaching license, which is valid for up to three years, upon completion of the 120 hours of iteach's online course work. After completing the course work and teaching experience in a partnering, approved school division, teachers can convert their provisional license to a full professional license.
The online program helps aspiring educators bypass the high cost and yearslong commitment of earning an education degree from a university.
The administration of Gov. Glenn Youngkin touted the partnership with iteach as a way to help curb Virginia's teacher shortage.
Anna Bryson (804) 649-6922
abryson@timesdispatch.com
@AnnaBryson18 on Twitter
Sean Jones contributed to this report.