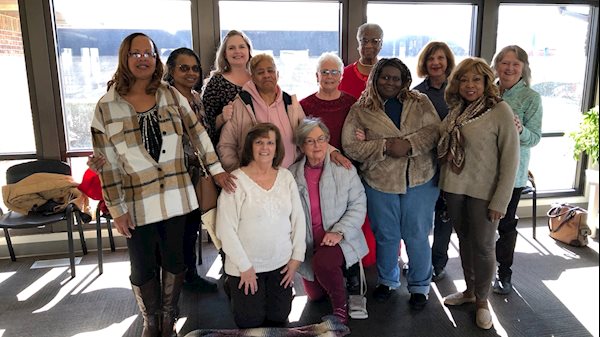 Tina LeFaive is leading efforts to improve community health in Springfield, Ohio by developing Faith Community Nursing programs in churches across the area. After starting with just five churches, the program has grown to include 15 churches with plans to develop five more.
LeFaive always knew she wanted to be a nurse. Despite growing up in a family that didn't value education, she navigated the education system and enrolled in an LPN program. After taking time off to be a mother, she began working as an LPN and went on to receive her bachelor's and master's in nursing while working in a cancer center.
Working in the cancer center shaped how LeFaive viewed holistic care: "Behind every patient there is a family. Behind every circumstance there is a story." She loved getting to know the dynamics of her patients, and felt that there was so much more that could be done to help them. LeFaive felt a drive to provide more holistic care.
While getting her master's degree, LeFaive became an adjunct faculty at Cedarville University, where she was able to work with students and teach them about a more holistic approach. During this time, LeFaive realized she really loved working with the public.
LeFaive took a faith community nursing course and began completing hours towards her graduate practicum course while working with Good Samaritan Hospital's Health Ministry. LeFaive gained experience and was asked to help different churches organize their own faith community nursing programs in the Springfield area.
During COVID, many of the local faith community nursing training programs shut down. LeFaive came across Dr. Angel Smothers, Associate Dean for Community Engagement for WVU's School of Nursing. Together, they assembled a program to fit the Springfield project's needs. There are a variety of people involved in FCN programs, including nurses, pastors and community members. The course being online made it easily available for those interested.
Smothers said she feels honored that the School of Nursing has been able to help in this effort.
"It's a beautiful example of partnering to build access to care," she said. "Tina has been perfect for this job in Ohio — she's that consistent person who's in the community with these nurses."
LeFaive said the more involved the faith community efforts become, the more doors seem to open. She especially enjoys seeing so many different denominations all working together for a common goal. One of the churches is hosting a health fair with Spanish speaking options. The church will soon have a women's health event with mammograms.
Community outreach, LeFaive believes, is about meeting people where they are.
LeFaive is grateful for the Bon Secours Mercy Health Foundation, The Nehemiah Foundation, and the Clark County Combined Health District for supporting these efforts.
To learn more about Faith Community Nursing in Springfield, please contact Tina LeFaive at tinalefaivefcn@gmail.com or 937-944-3808.
To learn more about Faith Community Nursing, email Dr. Angel Smothers at asmothers@hsc.wvu.edu.
-WVU-
CONTACT: Wendy Holdren

Director of Communications and Marketing

WVU School of Nursing

304-581-1772; wendy.holdren@hsc.wvu.edu