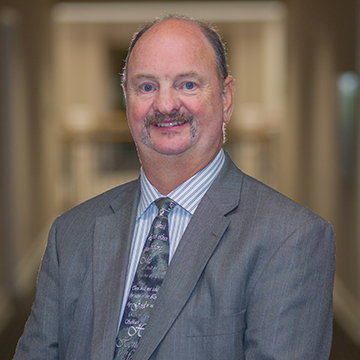 Dr. Bill Hamby is the new professor of accounting for the Harris College of Business and began his role for the 2023 fall semester. He is teaching Federal Taxation I, Principles of Accounting II, Business Ethics, and Business Policy & Strategy.
Hamby retired from the Alabama Public University System in 2021 after having a heart attack in 2019. However, he was not ready to end his teaching career. After two months of retirement, he began a search for an online teaching position or one in the Central Alabama region.
"I was fortunate to find a position at Huntingdon and I was there for 18 months and decided that I wanted to focus my teaching in areas of my expertise," Hamby said. "At Huntingdon, I was teaching courses that were not within my areas of expertise, and I was not satisfied with the results from those courses. I wanted to stay in the Central Alabama region because of my children and grandchildren. I had heard very good things about Faulkner and liked that it is a Christian university."
Hamby earned his Ph.D. in Accounting with a minor in Statistics from the University of Alabama in 1992.  He has a BS in Accounting and Management Information Systems from the University of North Alabama.  He has 35 years of full-time teaching experience and has taught previously at the following institutions: Huntingdon College, Alabama A&M University, Troy University, Indiana Wesleyan University, Lincoln Memorial University, Thomas University, Saint Mary's University (Nova Scotia), University of West Georgia, and University of South Alabama.  He has served 11 years in administration as a dean, division chair, department Chair, and director of accreditation. His primary teaching responsibilities and research interests relate to accounting information systems, managerial accounting, business ethics, leadership, economic impact, and business strategy. He has published in the TEST Engineering & Management, Journal of Business Cases and Applications, SS International Journal of Business and Management Research, International Journal of the Academic Business World, Academy of Business Research Journal, The Journal of American Academy of Business (Cambridge), Advances in Accounting Information Systems, Employee Benefits Journal, and CPA Journal.  
Hamby has been active in accreditation consulting for educational institutions in the US and China. His expertise in developing assessment systems and preparing accreditation reports has resulted in clients achieving specialized business program accreditation. In addition to his accreditation consulting activities, he has provided service to the Accreditation Council for Business Schools and Programs as a mentor and peer evaluator. 
Hamby has provided information systems and business strategy consulting for numerous small businesses in Alabama, Nova Scotia, Tennessee, Kentucky, and Georgia. His supervision of student-led consulting projects provided valuable information systems solutions for the clients and job-ready skills for the students.
Hamby is also recognized as an expert in data analysis. While serving at Troy University, he was tasked with developing the methodology for estimating industrial water usage for the Alabama Department of Economic and Community Office of Water Resources. He developed an innovative approach for estimating the industrial usage of water by utilizing measures of productive capacity.
Hamby has been active in community service organizations by serving in a variety of leadership roles. Most recently, he served as a Career Counselor at Turning Point Foundation, a Christian-based addiction recovery center in Thorsby, Alabama. He has also served as a coach for a variety of youth baseball, football, and basketball teams. He is married and has three children and three grandchildren. His professional activities have provided him with opportunities to teach, present research, engage in ministry, and provide consulting services in Saudi Arabia, Jamaica, China, Vietnam, Malaysia, Belize, Nicaragua, Mexico, France, Belgium, the Bahamas, Canada, and Turkey.