Steve Clark failed to oversee the land selection process, which led to the private interests of certain developers being furthered improperly, the report found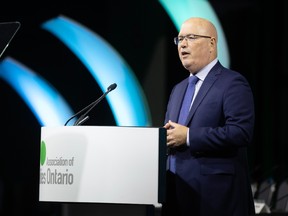 Article content
TORONTO — Ontario's housing minister violated ethics rules when the government removed land from the protected Greenbelt for development, the province's integrity commissioner found, saying the process was marked by "unnecessary hastiness and deception."
In a report released Wednesday, the commissioner found Housing Minister Steve Clark violated two sections of the Members' Integrity Act that governs politicians' ethics, conflict of interest rules and insider information rules.
Article content
Clark failed to oversee the land selection process, which led to the private interests of certain developers being furthered improperly, commissioner J. David Wake found.
"The evidence paints a picture of a process marked by misinterpretation, unnecessary hastiness and deception," Wake wrote in his report.
"I have recommended to the Legislative Assembly of Ontario that Minister Clark be reprimanded for his failure to comply with the Act."
In responding to the report, Premier Doug Ford said Clark will continue to work toward the government's goal of building housing and "ensure public trust and confidence is maintained every step of the way."
"When it comes to the Greenbelt land-swap, the government's singular goal has been to build more homes people can afford," Ford wrote in a statement.
"We've acknowledged areas where we need to improve; the Integrity Commissioner reiterated that today, and we'll continue to work to strengthen the process moving forward."
Ontario looks at returning land to Greenbelt after developer puts two properties for sale

Ontario housing minister's chief of staff resigns days after auditor general report on Greenbelt
Article content
Clark, in his own written statement, said he accepted the integrity commissioner's findings.
"There were clear flaws in the process that led to today's report," he wrote. "I am fully committed to fulfilling our government's promise to build at least 1.5 million homes and will ensure the process is done with integrity and trust."
Last year, the province took 7,400 acres of land out of the Greenbelt to build 50,000 homes and replaced it with about 9,400 acres elsewhere.
That decision led to a public outcry, as well as a complaint filed with the integrity commissioner by Official Opposition and New Democrat Leader Marit Stiles.
Wake concluded that Clark's chief of staff, Ryan Amato, was the "driving force" behind the lands that were selected to be developed.
"Mr. Amato advised Minister Clark to 'leave it with me' as he embarked on a chaotic and almost reckless process that I find led to an uninformed and opaque decision which resulted in the creation of an opportunity to further the private interests of some developers improperly," the commissioner wrote
Amato resigned earlier this month but has denied any wrongdoing.
Article content
The findings in the integrity commissioner's report led to renewed calls on Wednesday for Clark's resignation.
"We need to call it what it is: corruption," Stiles said at a news conference. "It's been clear to us that Mr. Clark needs to resign."
Green Party Leader Mike Schreiner echoed Stiles' sentiments.
"This is unacceptable behaviour for an elected official, let alone one whose primary responsibility is to bring forward solutions to Ontario's housing crisis," he said.
Ford and Clark have been at the helm of the government's pledge to build 1.5 million homes over 10 years. They have repeatedly said that the 50,000 homes slated for development on land removed from the Greenbelt are needed to achieve that goal.
But the province's housing task force and three regions where the land was removed have said the Greenbelt land was not needed to achieve that target.
Wake said he and his team conducted a thorough investigation that included evidence from more than 60 witnesses, and more than 2,300 documents. They also reviewed maps, text messages, emails and briefing decks.
Article content
Wake found Amato received packages from certain developers keen to have their lands removed from the Greenbelt.
"When submissions for Greenbelt removals were met with 'send me more information' instead of only a polite acknowledgment, this was a subtle change in the messaging that was noticed quickly by the ever-sensitive antennae in the developer network," Wake wrote.
Ontario created the Greenbelt in 2005 to protect agricultural and environmentally sensitive lands in the Greater Golden Horseshoe area from development.
Ford said in 2018 he would not develop the Greenbelt after previously musing about doing so. That changed last year with his mandate letter to Clark shortly after the Progressive Conservatives handily won the 2022 election.
"In Fall 2022, complete work to codify processes for swaps, expansions, contractions and policy updates for the Greenbelt," Ford wrote to Clark in the mandate letter in June 2022.
Wake found Clark, who is supposed to supervise his staff, made three critical decisions that "contributed to the improper result of the process."
Article content
First, Clark misinterpreted the mandate letter's timing for the Greenbelt removals that led Amato to embark on a "rushed process with unfortunate results," Wake wrote.
Second, Clark decided to withdraw from the supervision and direction of "his highly significant initiative within his ministry."
And, third, he took the Greenbelt proposal to cabinet without questioning Amato or his deputy minister about how the properties had been selected.
Much of the commissioner's findings echo what Auditor General Bonnie Lysyk found in her own Greenbelt report released earlier this month.
Lysyk said developers who had access to Amato at a developer conference wound up with 92 per cent of the land. The owners of the sites removed from the Greenbelt stand to see their land rise in value by at least $8.3 billion, she found.
The province's privacy commissioner was also asked to probe concerns related to the Greenbelt after the auditor general's report found emails related to the land swap were regularly deleted by political staff, who were also using personal emails to conduct government business.
Information and Privacy Commissioner of Ontario Patricia Kosseim said Wednesday that her office was looking into that issue by dealing with freedom-of-information appeals related to the Greenbelt.
The RCMP is also reviewing information about the Greenbelt land removal to determine whether it should investigate. Ford has said he is confident nothing criminal took place.
Our website is the place for the latest breaking news, exclusive scoops, longreads and provocative commentary. Please bookmark nationalpost.com and sign up for our politics newsletter, First Reading, here.