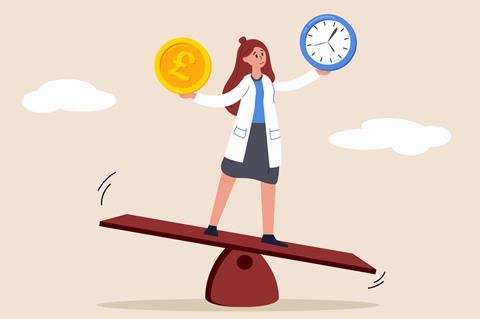 I should have retired at 60. I didn't. Instead I stayed teaching full-time, mainly because I couldn't afford to stop.
For 38 years, my passion for my subject, my love of teaching and the joy of staying in contact with former students – who are now surgeons, researchers, art restorers and chemistry teachers themselves – kept me going. However there's little left in the tank.
The main thing keeping me in the chemistry classroom now is lack of financial security. My teacher's pension would pay out less than half my current earnings. Add to that the cost of living, rising interest rates, an increasing mortgage and insecurity in my husband's job and you soon see why the thought of retiring is a source of stress.
Teaching part-time is an option. It would give me some financial security and more time to share knowledge with and support early career teachers (ECTs).
Mentoring a motivated, dedicated ECT has been a recent highlight of my teaching career. From training them to use Bluetooth data loggers in kinetics investigations to preparing and purifying organic liquids with the whole class (without setting fire to the lab), this sharing has fuelled my desire to stay.
But if I went part-time, my school would have to recruit another teacher who also wants to work part-time. That's not a simple prospect when many schools are struggling to recruit specialist science teachers, instead relying on non-specialists and ECTs who are yet to acquire the experience.
Financial constraints may be preventing me from retiring yet, but they're also at play in college
The Covid-19 pandemic has also taken its toll. Post-pandemic, we are seeing societal and developmental changes in young people.
Having adapted to online teaching I could not wait to return to the laboratory and have face-to-face time with my students. The reality was and is challenging. Students are struggling with anxiety, they have negative attitudes to study and absenteeism levels are high. Where once I had the ability to switch on drive, ambition and love of learning in all my students, increasingly I feel that overcoming these challenges leaves little time or energy for the good stuff.
Looking for support with your well-being and mental health?
Check out our Teacher well-being hub. It's full of ideas and strategies to help achieve work-life balance, deal with bullying, retire well and find the right support for you.
Financial constraints
I teach A-level chemistry, BTEC applied science and GCSE science. All require a practical element. Over my many years of teaching I have brought chemistry to life by involving students in a plethora of investigations, demonstrations and working with companies such as Solvay to sponsor school lab-based competitions. But none of this is possible without experienced chemistry lab technicians. These amazing individuals are also difficult to recruit and retain. Underfunding means their hours are cut which is having a significant impact on the way I teach.
Students come to the college where I teach not only to gain level 3 qualifications but also to improve grades and life chances. Last year my college offered a resit course for GCSE combined science with 4.5 hours of contact time per week. I found reteaching the loaded syllabus content of the foundation level, including abstract concepts such as electrolysis and fuel cells, extremely challenging.
While I am still teaching, I hold on to the rewarding aspects
Financial constraints may be preventing me from retiring yet, but they're also at play in college. Halfway through the last academic year all financial requests were put on hold as budgets ran dry. Meanwhile class sizes continued to increase and specialist teaching rooms were overcapacity. The resultant increase in workload was substantial.
While I am still teaching, I hold on to the rewarding aspects – those lessons where students thank you on their way out, results days and catching up with ex-students' successes when I invite them to talk in my classes. But I will be leaving the classroom soon. Not to retire, financially that's still not possible.
Next year I will start a new job as an e-learning training officer. It's less well paid than teaching, but also offers a reduction in workload and stress. I will miss teaching and given my time again, I would still become a chemistry teacher. Now though I shall relish this new opportunity.