In the beginning of April, the raised beds and fields at 65 Thornton St. are dormant, waiting for the weather to warm up before producing fresh vegetables. By June, the Thornton Street Urban Farm and Community Garden in Roxbury is filled with produce – food that will end up at the tables of some of the most underserved and food insecure communities in Boston.
This half-acre property is operated by Haley House, a nonprofit organization working to feed the community and teach them about the art of vegetable gardening. It's one of several programs in the city designed to tackle food insecurity — the lack of consistent access to affordable, healthy and culturally relevant foods.
Historically, projects like these have been supported by the City of Boston through a variety of municipal programs. For more than 25 years, this has been the mission of City Hall's GrowBoston initiative – formerly known as the Office of Urban Agriculture – which, through the Grassroots Program, supports the development of community gardens, urban farms, food forests and other open spaces in Boston. In July, the mayor's housing office announced that the program would award $300,000 in funding to four community farm projects across the city, including Eastie Farm in East Boston and the Codman Square Neighborhood Development Corporation in Dorchester.
Research shows that solutions for food insecurity in Boston are needed. One study from the Greater Boston Food Bank and Feed noted that the cost of food in the city is the highest it has been in 40 years. It also reported that in 2021, 32% of adults in the state – roughly 1.8 million people – are experiencing food insecurity. Furthermore, food pantry use increased from 32% in 2020 to 46% in 2021, indicating that food assistance programs are vital for nearly one out of two people. The food bank's 2021 city-wide survey indicated that Black, Latinx, LGBTQ+ and families with children have faced this most severely.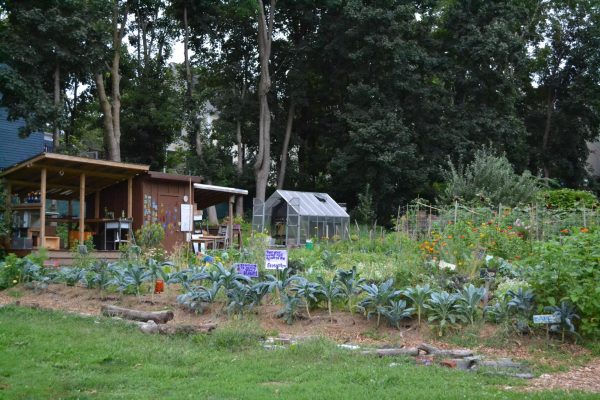 According to Theresa Strachila, GrowBoston's program manager, supporting community gardening projects is an effective way to minimize the impact of this issue.
"Urban agriculture in the city is one of many solutions that can help to increase access to fresh, healthy produce for people in the city of Boston," she said.
While Boston has two formally classified food deserts — urban areas that do not have grocery stores or alternative options to obtain healthy food — one in West Roxbury and another in East Boston, food insecurity is not limited to geographic boundaries. According to Annabel Rabiyah, the rooftop farm manager at Boston Medical Center, economic disparity is the main barrier for access to food and can affect residents of any neighborhood.
"I think it's that people are disenfranchised by not having access to wealth and the cost of living in Boston being astronomical," she said. "And that, of course, disproportionately impacts people of color."
This is the driving force behind Haley House, guiding their efforts to address food insecurity since 1966, when the organization was founded. By creating communal space for anyone to inhabit, from sharing a meal to tending to a farm together, Haley House hopes to bridge the gap between people and access to fresh food.
"So it's not us serving them […] It's more like, how are we sort of doing [this] together," said Jay Vilar, the program director for Haley House. "So that has become part of the ecosystem or DNA of Haley House for many, many years. There's this sort of drive to be a part of [the community.]."
In recent years, Haley House has turned its attention to food insecurity among seniors. The Thornton Street farm recently wrapped its third year of the Highland Park Senior Produce Distribution Program, an initiative which began in 2020 as a response to heightened food insecurity among seniors during the pandemic, distributed 55%, totaling over 500 bags, of the produce grown over 12 weeks during the growing season in the summer to neighborhood seniors. Around 20% of the farm's produce was redistributed back into Haley House's Take Back the Kitchen, LiFT and soup kitchen programs.
In addition to the fresh produce grown, the Thornton Street Farm offers opportunities for youth groups and schools to give teenage students hands-on opportunities to learn about growing and agriculture each season. From May to October 2022, the farm worked with over a dozen teenagers and several 8 to 12 year-olds in a newly launched Junior Farmer Program. Multiple local schools also engaged with programs on the farm.
"Having access to space that you can actually grow and learn farming in the confines of Boston, I think it's just like a unique experience and opportunity," Vilar said. "So for us specifically, we get hit up a lot from schools and community organizations and youth groups and just folks that want to be part of the space and the land in a meaningful way."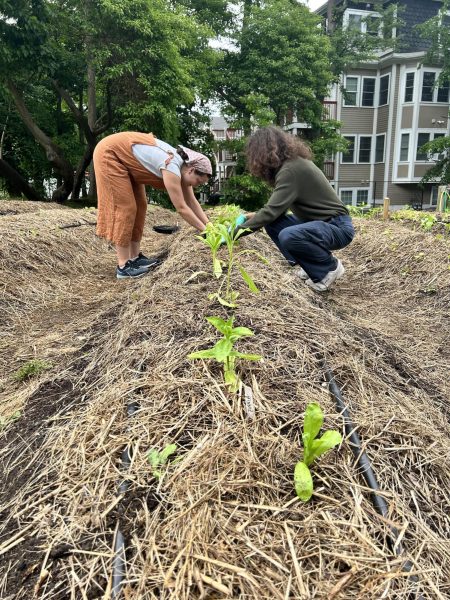 These programs have proven to be successful, but they aren't without their challenges — choosing an adequate location to build a farm within a city, for instance.
"In urban areas, especially in areas like Boston and across the city, most of our soil is contaminated with urban fill and has high levels of lead," said Strachila. "If you're going to be growing food in the soil, you need to be doing some soil remediation." Strachila also stressed the importance of taking water into account when considering irrigation systems for urban farms.
According to Vilar, there's also a social limitation to urban farming. He believes tackling food insecurity can't be the sole responsibility of individuals and grassroots organizations, especially when the greater issue is systemic.
"I think it's more like, we are an access point for folks who are facing food insecurity," he said. "We noticed that in the pandemic, our numbers almost doubled, sometimes quadrupled, with the amount of folks that needed just food in general. And that is a systemic problem that I don't think any organization is going to solve."
Despite the obstacles they face, organizations like Haley House continue to offer assistance to hundreds of people each week, making healthy food accessible – whether that is through hot meals or their food pantry — while providing food education and community outreach programs.
It's all thanks to the volunteers — those running the soup kitchen where meals made from Thornton Farm produce are served. For live-in resident Rachel Wallace, who manages the direct services of the organization, this is more than just work. Being integrated in her community allows her to connect with guests in ways beyond service.
"There are times where in the summer, I would sit outside and read with some of our guests," said Wallace. "So it's not like we're just interacting in this one certain context. It's like we are continuously in community with the people that we're serving."