CNN
 — 

Soon after he became chief justice of the United States, John Roberts faced what he believed was a "crisis" involving the judiciary: Federal judges were underpaid.
What Roberts did next to address the situation stands in stark contrast to the way he has tiptoed through the current controversy over the Supreme Court's integrity.
As he pushed for a pay raise, he arranged a meeting at the White House to win support from then-President George W. Bush. He encouraged emissaries to talk to members of Congress. And he devoted an entire year-end report to the situation.
"I am going to discuss only one issue – in an effort to increase even more the chances that people will take notice," Roberts wrote on January 1, 2007. "That is important because the issue has been ignored far too long and has now reached the level of a constitutional crisis that threatens to undermine the strength and independence of the federal judiciary."
His concern: "I am talking about the failure to raise judicial pay."
Today, Roberts is at the center of the controversy over the court's lack of transparency and absence of a formal code of ethics. The justices have been inconsistent in reporting travel and gifts bestowed on them by wealthy benefactors who may be trying to influence the court.
The 68-year-old chief justice, who will be starting his 19th term in October, has moved with little apparent urgency.
On Thursday, the issue was again in the spotlight as Justice Clarence Thomas filed a long-awaited annual financial disclosure form that pointed up his relationship with Texas real estate billionaire Harlan Crow. Thomas acknowledged that he had traveled on private jets at Crow's expense for Dallas events and taken a separate vacation excursion to Crow's opulent estate in the Adirondacks.
Thomas also reported that Crow had in 2014 bought property in Savannah, Georgia, from Thomas and his family. Thomas' lawyer said any delays or other filing errors were "inadvertent" and described public criticism of Thomas as "political blood sport."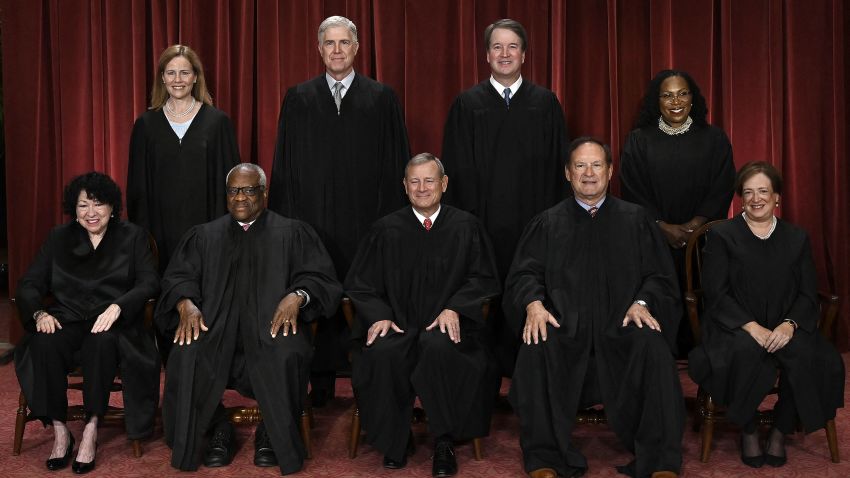 Justice Roberts wrote 'condescending' letter to Senate when asked to testify about ethics
The backdrop to Thursday's filing by Thomas and Justice Samuel Alito, both of whom had sought extensions from a May deadline, is the rising attention to the Supreme Court's inability to monitor itself on this front. The justices' extracurricular activities and lack of any process for resolving complaints has become as much a topic of public scrutiny as their rulings pushing the law in America to the right.
For years, individual justices have said the court was considering its own code of conduct, as now covers lower court judges. But that consideration has never produced any public result.
Members of Congress, advocacy groups and even some justices have looked to Roberts for leadership, to no avail.
Roberts told an audience of lawyers in Washington, DC, in May: "I want to assure people that I am committed to making certain that we as a court adhere to the highest standards of conduct. We are continuing to look at things we can do to give practical effect to that commitment."
Yet when the justices left town for their summer recess in June, they were at a stalemate on whether a formal code was even necessary.
In separate public appearances this summer, Justices Brett Kavanaugh and Elena Kagan, when asked about a possible ethics code, said they didn't want to get out ahead of Roberts on the issue.
While Roberts has sent muted signals, he has made his resistance to congressional involvement clear.
Roberts in April declined an invitation to testify before the Senate Judiciary Committee about judicial ethics, referring to "separation of powers concerns and the importance of preserving judicial independence."
The Democratic-run Senate committee in July advanced legislation that would require a Supreme Court ethics code and a set of procedures for resolving complaints regarding their behavior. Given the tight partisan divide in the Senate and Republicans' control of the House, the bill is unlikely to become law.
So, much depends on the justices themselves.
Roberts is known for formidable powers of persuasion. Before he became a US appeals court judge in 2003 and a Supreme Court justice in 2005, he was a star appellate advocate at the high court. But there are limits to his authority as chief, and the regard he engenders among individual colleagues varies.
There may also be limits to the personal capital Roberts wants to put toward a dilemma that lies beyond the consideration of cases.
The chief justice had made the judiciary's pay raise a singular concern, and eventually judges and justices obtained full cost-of-living increases and higher pay.
Unlike with judicial pay, which naturally generated support among black-robed colleagues, the ethics issue has defied consensus in Roberts' ranks.
Alito said in a Wall Street Journal interview published in July that he "voluntarily follows" the rules that apply to lower court judges, and he denigrated congressional efforts in this area: "I know this is a controversial view, but I'm going to say it. No provision in the Constitution gives them the authority to regulate the Supreme Court – period."
Last month in Portland, Oregon, Kagan also referred to internal differences.
"It's not a secret for me to say that we have been discussing it," she said, referring to a formal set of ethics rules. And it won't be a surprise to know that the nine of us have a variety of views about this, as about most things. We're nine free-thinking individuals."