September is Suicide Prevention Month, a time to raise awareness about mental health resources, provide education on saving lives from suicide and encourage everyone to learn what role they can play in suicide prevention.
The Kim Foundation, which works to increase awareness about mental health and suicide prevention in Nebraska, is engaging with the month by sharing resources and participating in several community outreach events and presentations.
A Time for Hope & Healing, the Kim Foundation's annual event, will feature best-selling author and mental health advocate Jon Gordon, whose most recent book focuses on stress, anxiety and prioritizing mental health.
The foundation sees a staggering number of suicide deaths in our community of working-age adults, and employers can play an important role by prioritizing mental health in the workplace and providing suicide prevention resources and information. Gordon will speak to the role employers can play in their employees' overall well-being.
A Time for Hope & Healing is scheduled from 11:30 a.m. to 1 p.m., Sept. 20, at Embassy Suites La Vista Conference Center, 12520 Westport Parkway. Go to thekimfoundation.org for more information and to register.
During Suicide Prevention Week, Sept. 10-16, the Kim Foundation will host Chalk it Up for More Tomorrows. The goal is to blanket the community with hopeful sidewalk chalk messages throughout each neighborhood and business district in the Omaha area.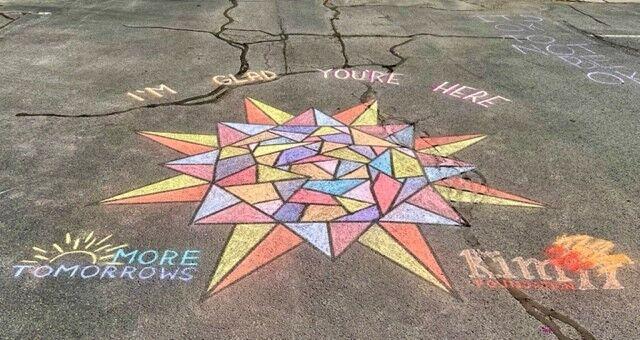 Community members are encouraged to gather kids, friends, neighbors and co-workers to decorate their driveways, sidewalks or parking lots with sidewalk chalk art that brings a little hope and inspiration to someone who may need it.
Participants can also share on social media using #ChalkItUpForMTNE or submit a photo of their chalk piece(s) with their name to info@thekimfoundation.org for a chance to win prizes. For more information on the event and how to get involved, visit thekimfoundation.org.
The Kim Foundation is also sponsoring a suicide prevention sticker design contest. Area high school students are invited to submit an original sticker design that focuses on suicide prevention in teens. The designs are to be specifically aimed at teens to encourage hope, perseverance, self-love and self-worth. All high school students (grades 9-12) from Douglas, Sarpy, Washington, Dodge and Cass counties are eligible to participate. Entries must be received by Sept. 29. Go to thekimfoundation.org.
Tag a butterfly at DeSoto Wildlife Refuge
Learn about the amazing life history of the monarch butterfly and the incredible journey to their wintering grounds in Mexico at a Sept. 9 event at DeSoto National Wildlife Refuge.
Preregistered participants will assist staff and volunteers in catching and tagging monarchs. The information from recovered monarch tags are used by scientists to learn more about monarch orientation and navigation during their migration to the wintering grounds in Mexico.
Participants must preregister by calling the DeSoto Visitor Center at 712-388-4822. The program starts at 9:30 a.m. on Saturday at the visitor center with a short program on monarchs before going out on the refuge to catch and tag butterflies. The refuge has a limited supply of butterfly nets available for use. Long pants and closed-toed shoes are recommended. Participants are welcome to bring their own nets to participate in the tagging program.
DeSoto National Wildlife Refuge is located north of Omaha along U.S. Highway 30 between Blair, Nebraska, and Missouri Valley, Iowa.
College of St. Mary marks 100th anniversary
College of St. Mary will mark its 100th anniversary, beginning Sept. 12, with a yearlong celebration.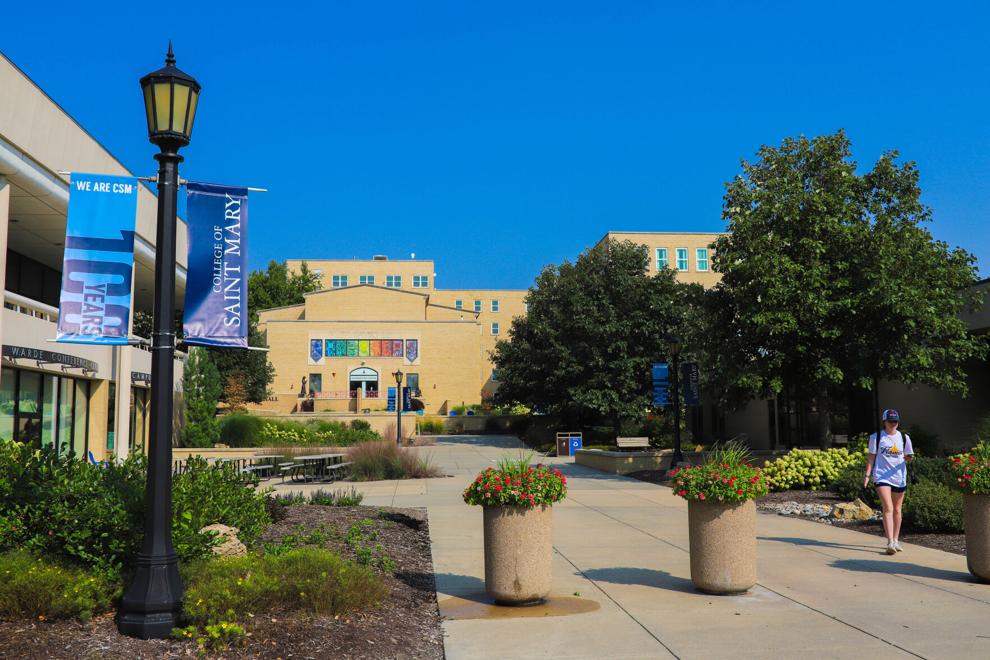 The college was founded by the Sisters of Mercy in 1923 as a two-year teacher's college. The university was previously housed from 1923-1952 in the former Continental Hotel at 15th and Castelar Streets. In November 1950, the Sisters purchased 80 acres of land next to 72nd Street and what would become Mercy Road.
The land was split evenly between College of St. Mary and the Sisters of Mercy. Construction began in 1953, and the university's first building — Walsh Hall — was completed in 1955. By 1958, it was a fully-accredited four-year university.
Today, CSM offers more than 35 undergraduate majors, seven masters and doctoral programs and 11 athletic teams.
"For the last century, College of St. Mary has empowered and developed generations of women to be leaders in their communities," CSM President Heather Smith said. "And as we begin the next 100 years, the university remains dedicated to championing academic excellence and making a difference in our students' lives."
CSM will kick off its yearlong celebration with its annual homecoming, Sept. 22-24. Events are open to all.
"Homecoming is one of my favorite times of the year," said Terri Campbell, vice president of alumnae and donor relations. "This year is extra special as we kick off the yearlong celebration of College of St. Mary's first century. I hope all alumnae will consider returning to observe this momentous occasion."
Some of the weekend events include a celebration marking 100 years of teacher education, the 2023 Alumnae Achievement Awards Luncheon, and a 100-year yard party featuring music from DJ Phil.
Hands Across the Bridge event on Sept. 16
In celebration of National Recovery Month, Valley Hope addiction treatment and recovery center will join the 11th Annual Hands Across the Bridge event in Council Bluffs.
The event is part of Valley Hope's recovery month campaign to share "Voices of Hope: Stronger Together," which highlights community, staff and alumni stories about thriving in recovery from drug and alcohol addiction. Valley Hope provides residential addiction treatment in O'Neill, Nebraska, and outpatient services in Omaha.
Hands Across the Bridge will take place at 10 a.m. Sept. 16. Participants are asked to meet at the Iowa entrance of the Bob Kerrey Pedestrian Bridge in Tom Hanafan River's Edge Park.
The goal of the event is to raise 1,000 hands and send an important message of hope: Prevention works, treatment is effective, and people do recover. Activities include a DJ, speaker, information, coffee and cookies, and a swag bag.