According to the FBI's Elder Fraud Report, individuals over the age of 60 lost $3.1 billion dollars to fraud in 2022, an increase of 84% from 2021.
"Tech and customer support schemes continued to be the most common type of fraud reported, with 17,800 complaints filed by victims over 60," FBI Assistant Director Luis M. Quesada stated in the report. "Monetary losses due to investment fraud reported by victims over 60 increased over 300%, more than any other kind of fraud, largely due to the rising trend of crypto-investment scams."
Brian Watson is a community outreach specialist with the Phoenix nonprofit Resources/Outreach to Safeguard the Elderly who is working to reverse that trend. He was previously with the Internal Revenue Service for 28 years.
"All the cases I did were financial investigations, primarily criminal tax cases," Watson said. "But I also worked Ponzi schemes, mortgage fraud and helped out on narcotics investigations and other illegal activity. For the last 18 years of my career I was a public information officer. My primary duty was basically deterrence business, working with the media, print, TV radio, to publicize our cases, to deter criminals from doing [crimes]." 
Watson said that the most important thing seniors should be aware of is an unknown person calling without warning and attempting to create a sense of urgency before demanding an immediate payment in gift cards, cryptocurrency or other means.
"Any time there's urgency involved is a huge red flag," Watson said. "Whether it's the grandparent scam where they say a child is in trouble, like in jail, and you need to pay money right now. Or it's the IRS phone scam where they're going to come arrest you [unless you pay them]."
One novel scam Watson came across involved the perpetrators posing as funeral home representatives and calling family members of individuals who died recently.
"The scammers will say that a payment did not go through and threaten to cancel the service if the victims do not send them money," Watson said. "They ask for your credit card number or some other form of payment. Resist the pressure to act immediately. Honest businesses will give you time to make a decision. Hang up and contact the funeral home using a verified number."
Verde Valley Caregivers Coalition executive director Linda Clark said that VVCC staff regularly warn their clients about a common scam involving callers who try to get grandparents to post bail for a supposed grandchild. The usual amount demanded in thesecases is $10,000.
"We [also] let them know if they have cell phones and computers to not click on any attachments in emails from utility companies, credit card companies or from any company, person or entity they don't recognize," Clark said. "And then there's the phishing emails where someone they know is asking them to buy gift cards. The good news is our clients are getting pretty savvy and sometimes grill me when I call to make sure I'm who I say I am."
Romance scams usually take the form of a long con and start with random messages on Facebook or a dating app before eventually moving on to demand some variety of payment.
"What they do is they're trying to build a long-term relationship to go for the big payout," Watson said. "Those are never real quick. Those start out innocently. They start out with maybe some text messages, some online messaging. Then they're showered with praise … Eventually, that's when they go for the money. There might be an urgency at the end where they say, 'Hey, I'm stuck. I'm stuck overseas. Can you pay me right now?' You'll see that at the end, but the romance games take a long time to play out."
Warning signs of romance scams include wanting to switch an online conversation to a third-party platform such as Snapchat or WhatsApp, avoiding in-person meetings or video chats and invitations to invest in cryptocurrencyor other business ventures.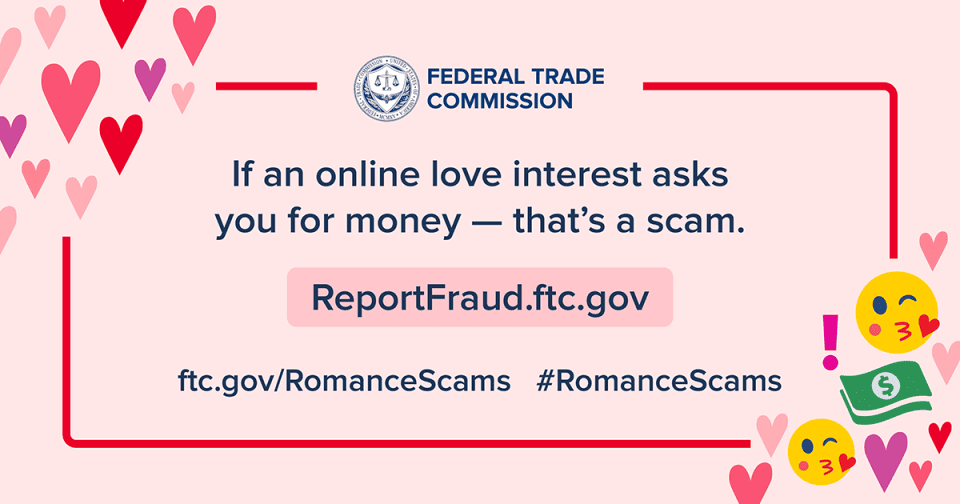 "It's a drain on society," Watson said. "It literally can break up families. I've seen financial frauds where families are broken up by either divorce or just things like that. I've heard of people committing suicide over where they lose everything. I spoke to a lady in Yavapai County that lost her house in a romance scam. She thought she was investing in cryptocurrency and she was not. The scammer got her for hundreds of thousands of dollars." Watson said that he was unable to quantify ROSE's success since its founding two years ago, but that he hopes its outreach will educate individuals to respond differently when they receive scam calls or emails.
"Technology is great, but it's a twoedged sword," Watson said. "It opens you up to frauds … So you just have to be very careful. Any time you get an email, don't click on links. A lot of times these phishing emails have links, and they take you to bad places. I also recommend not clicking on anything on a cell phone, the screen is far too small. If you have any doubt whatsoever, open up that email on a large screen, you can see where it's coming from, especially the email it came from. And then if there is a link, you can actually hover your mouse over that link. And you'll see it's taking you to a really long, obscure email, [that's a] telltale sign that it's a fraudulent email."
Watson also argued that fraudsters can be very effective at playing on their victims' emotions.
"They update their scripts to improve them," Watson said. "You don't have to be nice. It is okay to hang up or tell a lie if you have to. If you find yourself on the phone or online with someone you don't know, say, 'There is someone at the door, I have another call, or my food is burning in the oven.' Better yet, don't answer the phone if you don't recognize the number."
For more information about ROSE and how to better protect yourself from elder fraud visit roseadvocacy.org